It was a very cold November evening and we were two actors down, however, we had a lot of work to do and a group up to the challenge. Kaylie led a dance party that rocked the house as usual. Next up we created our circle and started a warm up. I did one of my personal favorites creating and controlling energy- it's a fun exercise for warming up the body. After warm-ups Ben, on marker duty, checked us off for those two items and then we moved on with our check in question, "What are you going to do for Thanksgiving?" Sounds like a lot of people are going to be traveling seeing family and eating lots of food, which after all isn't that the best way of spending Thanksgiving? Lucy's gonna be nice and warm in Phoenix Arizona. After checking in we decided to work on some music and reviewed Carol of the Bells along with the dance steps as we all tried to fit the moves in with the rhythm. We also touched on one of our newer songs We Wish You a Merry Christmas. A great thing about our production this semester is that most of the songs are ones that we have been singing all our lives.
After working on music it was time to get to the bulk of tonight's class and that is blocking the play. Last week we left off after scene two. We dove into scene three which starts with Colleen as the Spirit of Christmas Past (a part she has been very excited to play) waking up Andrew who played Scrooge. They took hands and traveled back to Scrooge's childhood school room. There they saw Ben playing young boy Scrooge sitting alone. Quickly Fan entered the picture. Claire will be playing Fan but for tonight I filled in. Andrew is already exploring the emotional moment of Fan appearing to take young boy Scrooge home for Christmas. Colleen the spirit then took him to Mr. Fezziwig's warehouse where a Christmas party was in full swing. Scrooge becomes very nostalgic for his old boss Mr. Fezziwig and remembered him as a kind and generous soul. Andrew already nailed the moment we're Scrooge wishes that he could speak with his own employee. Next we moved on to a very hard time in Scrooge's life when he witnesses the break up of Young Man Scrooge and Belle his fiancée, played by Lucy.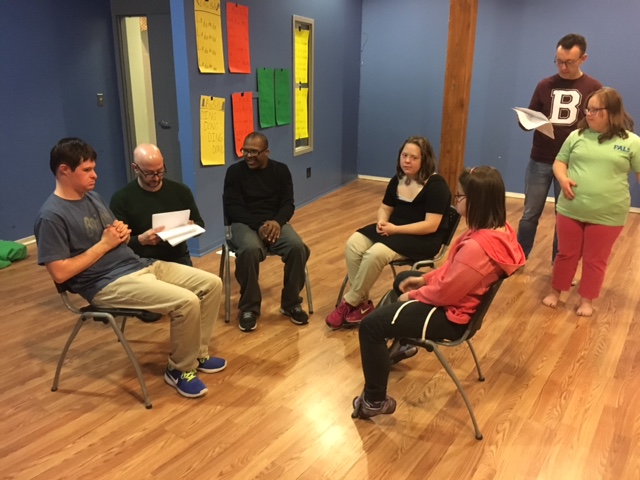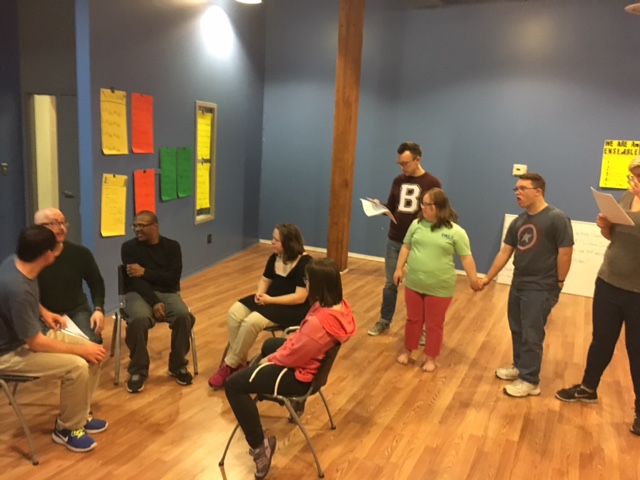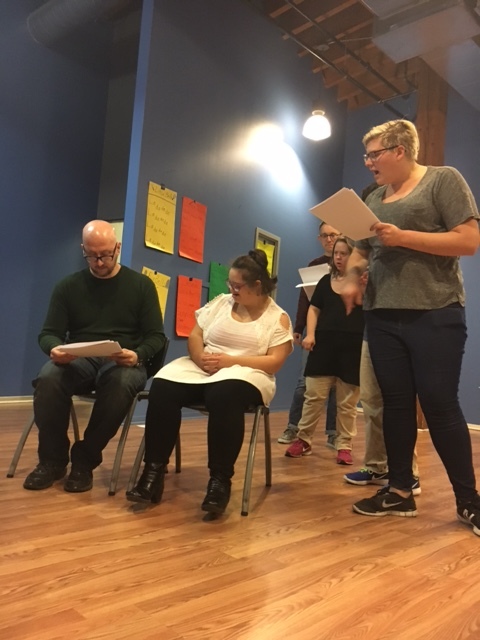 We finished off scene three and moved on to the scene four, which is really the bulk of the play. Sam R. took over the role of Scrooge, and Emily took on the role of the Spirit of Christmas Present. Emily took Sam to the Cratchit household where Colleen played Mrs. Cratchit and Ben played Mr. Cratchit. Andrew and Anna round out the Cratchit household as Peter and Alice. We get to see them enjoying each other's company despite their humble banquet. Next Emily the spirit takes Scrooge to his nephew's house, Fred. They are having a party there and discussing the desire to have Scrooge join them. Finally Scrooge finds himself in an alley where the spirit of Christmas present leaves him and the spirit of Christmas future takes over. This large chunk of story took us all the way to 7:55. We only had a few more minutes for our check out question, "Which character from a Christmas Carol do you feel most like it today?" Most of us felt like Bob Cratchit as we look forward to Thanksgiving and spending time with their family. Colleen feels like Christmas past very spooky yet helpful. With that Andrew, who has a birthday coming up soon, led us in I take from the heavens. We then bundled up and got ready to leave, a lot of our work done. We are off next week for the Thanksgiving holiday but after that we only have two more classes before showtime we have more work to get done but we are well on our way to being ready to perform.