Our devised stories are starting to take shape! This week our ensembles focused on SETTINGS and figured out details big and small about where our characters live and where their stories will take place.
As with last week, this week's rehearsals called on our actor's imaginations and teamwork to create the worlds our characters live in. After dance party, warm ups, and check in, we played some ensemble games designed to help us imagine different worlds. In spaceship, we suit up and take off to different planets. Each planet is unique - we visited an ocean planet, an ice cream planet, a Disney planet, a hot deserted planet, and more. We think about what we might encounter there, how we move, and act through all of these different environments. In On the Spot, our whole ensemble creates a tableau of a different places. For instance, in the Monday group, Emma suggestion we go on the spot to DC. She was a tourist with a map, Emily K was a police officer, Lawrence hopped up to be the Washington monument, and Sam R hopped up as the president with Braden as his secret service agent.
From there we broke into our small groups and looked over the characters we created last week, and got to work on imagining their worlds. We answered 6 questions about each person's setting:
Are we in the past, present, or future?

Where does the character live?

What is dangerous about this place?

Where does your person feel safe?

What can we see, hear, or smell in this place?

Who or what else is around?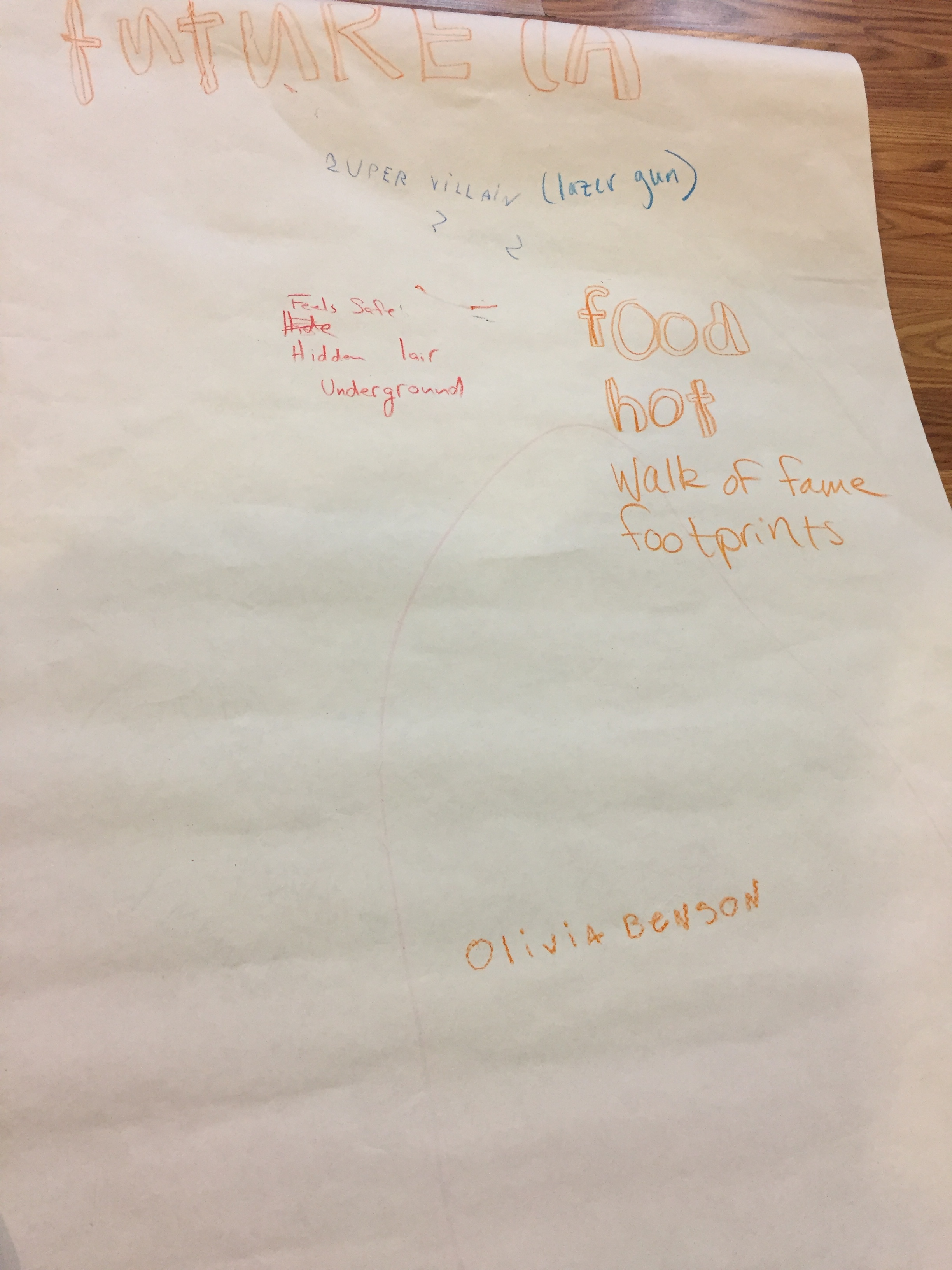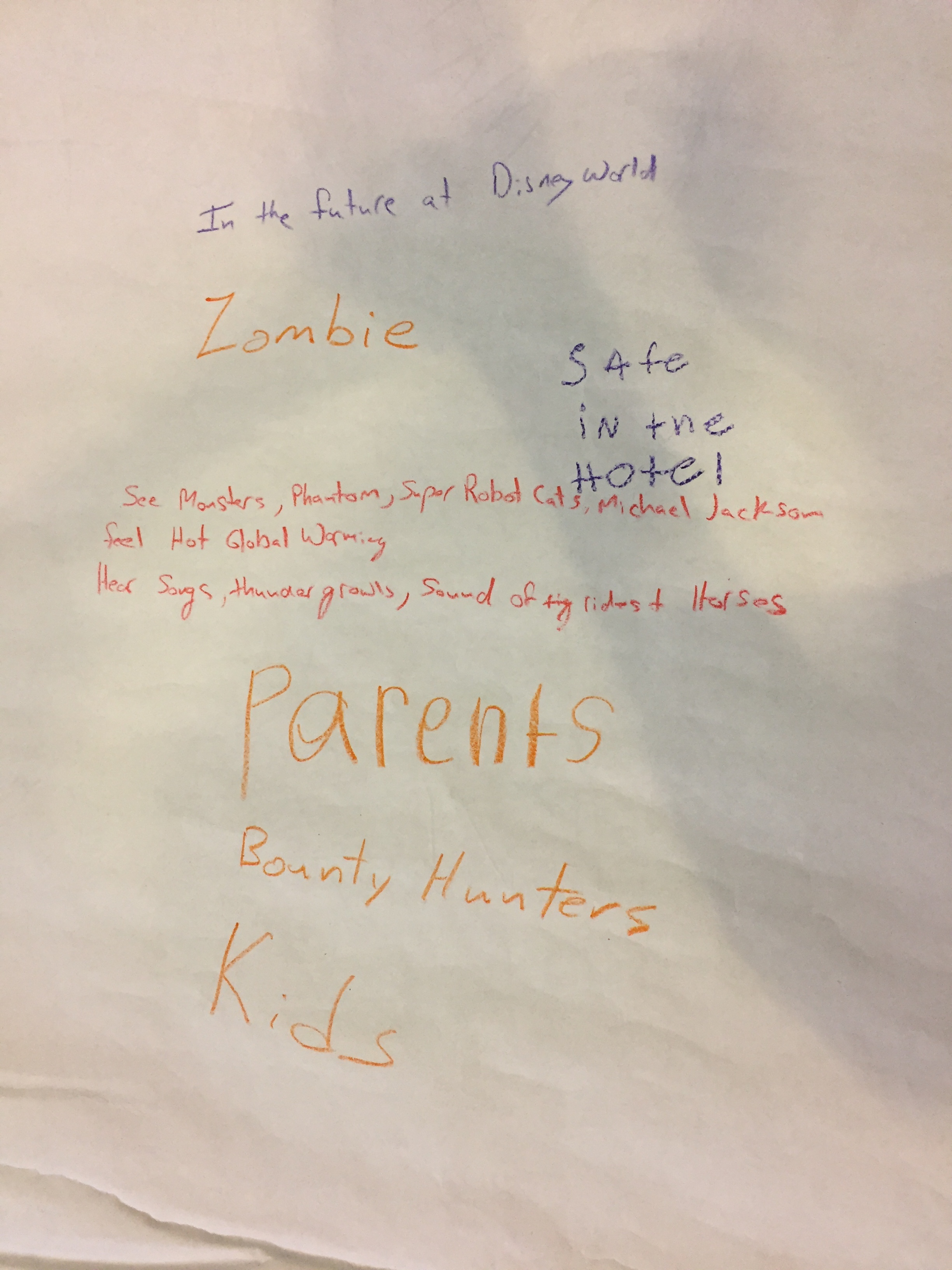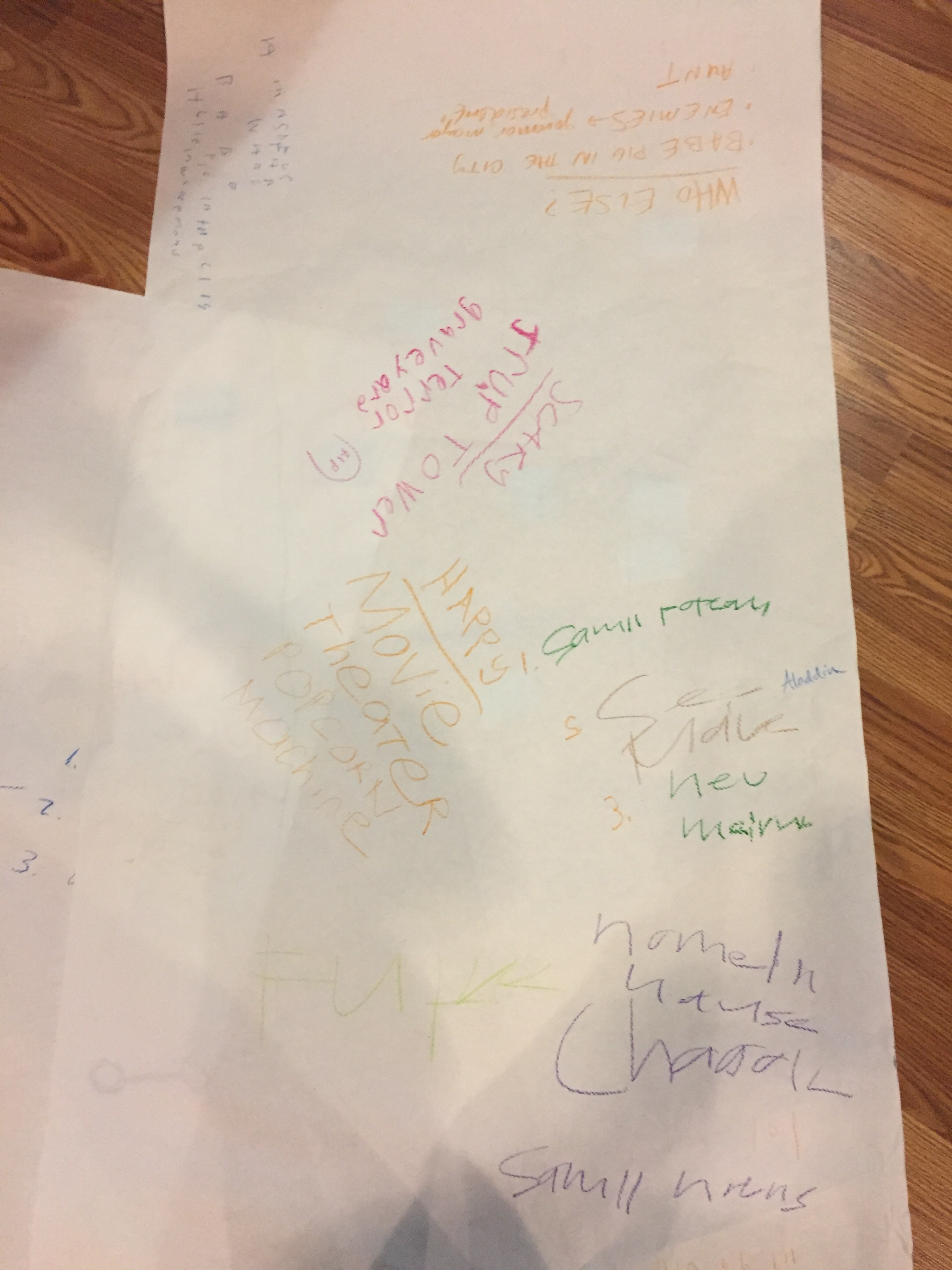 The answers to these questions really helped the stories to take off. We have a story set in medieval times, one in the present, and several set in the future. Some are set here in Chicago, and others range to places like Disneyworld, Hollywood and Atlanta. There are haunted buildings, zombies, and evil politicians that make places dangerous. And characters can retreat to underground lairs, enchanted forests, castles, and neighbor's houses. Our ensembles created really detailed and clever worlds. There were awesome discussions, and a lot of laughter and focus as we generated these ideas. After each question was answered, we played a version of on the spot where we hopped up to create our new settings. It was great to see them come to life right away, and got us really excited to continue playing in the weeks to come!
Now that the basis for each story is down, our groups will vote for their favorites. Each ensemble created 3 different stories, but will only perform two stories for our big show in December. That means we'll have to say goodbye to two of the awesome characters we've created. These are hard choices. We passed the characters around so each group had a chance to answer a question about each character, and everyone got to share in the creation of each setting. Hopefully that means all of our actors will feel connected to each story and feel a sense of ownership over the whole show.
We're on fall break this week but when we return, we'll start adding music and movement to the stories and firm up our plots. It's also a great time of year to do some costume shopping with all of the Halloween stores popping open around town. We'll have a lot of costume and prop needs for a show like this that has so many different characters and so many different stories to tell. You can help the show take shape with a tax-deductible donation to A.B.L.E., and of course stay tuned to the blog, Facebook, and Instagram for more behind the scenes updates!