Halloween came to A.B.L.E. this week! Many of our ensemble arrived in costume and good spirits ready to play. We had witches, zombies and even Superwoman in class this week and had a great time putting our scenes on the their feet. Here's what we did:
Dance Party
Katie was this week's dance party DJ and crafted a Halloween themed playlist with songs like "Monster Mash," "Purple People Eater," and "Thriller." Our group had fun twisting and pretending to be zombies and ghouls. To finish out, we played a version of freeze tag set to the Ghostbusters theme. Peter played "Slimer" and he ran around the room tagging people. If he tagged you, you had to freeze until two other players came to your rescue. They would stand on either side and say "Who you gonna call?" and then you would shout "GHOSTBUSTERS" to become unfrozen!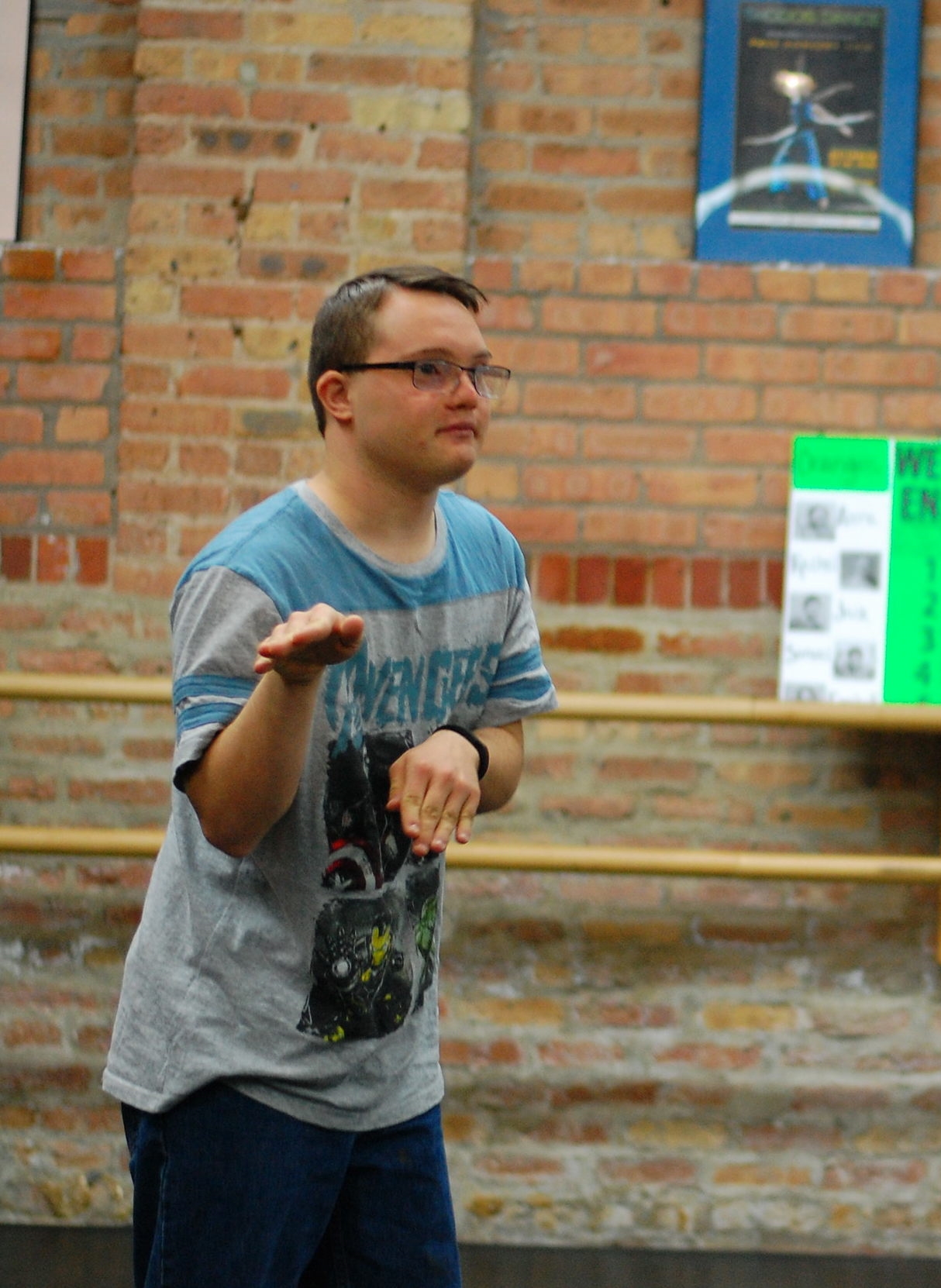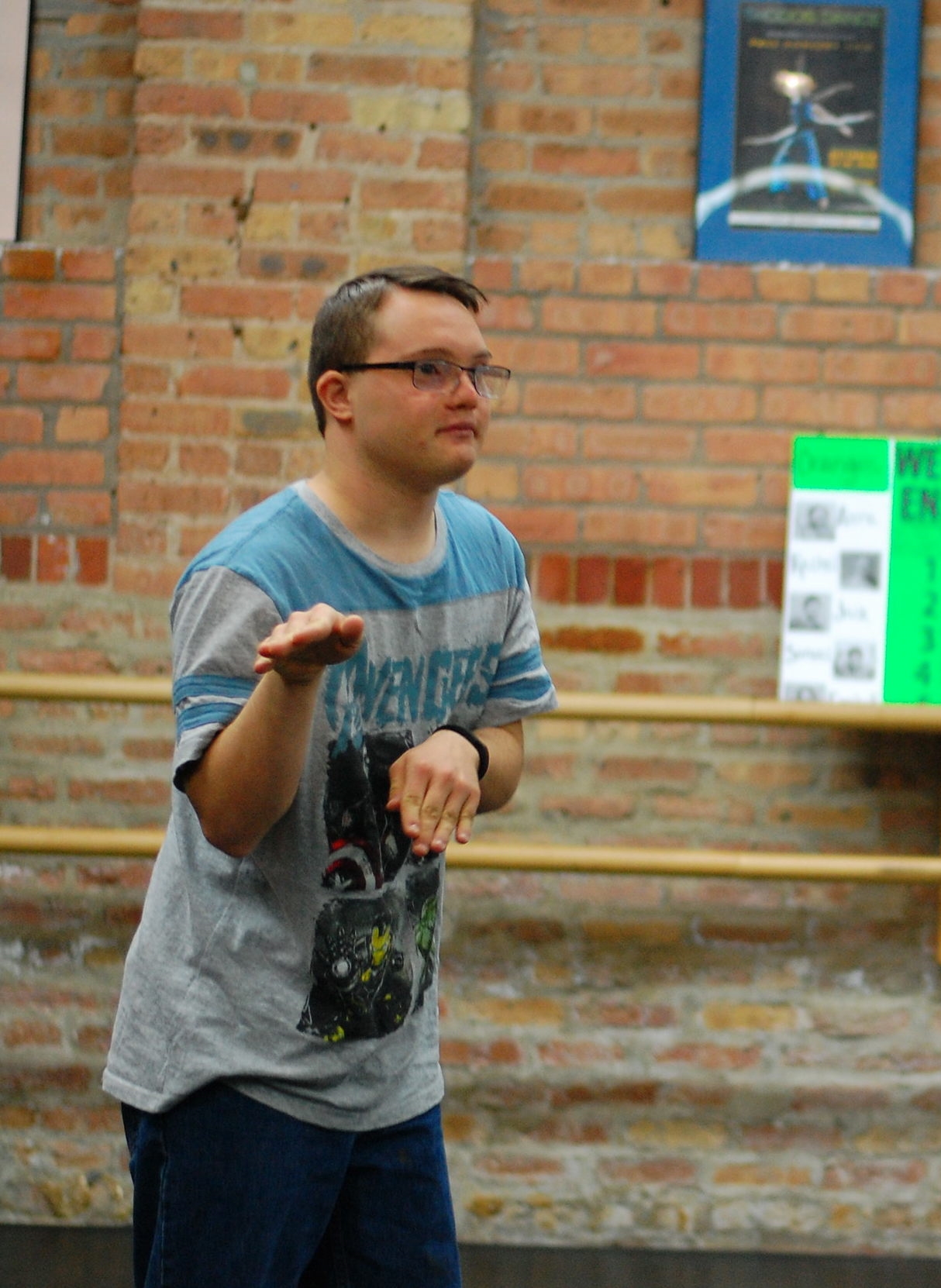 Warm Up
After dance party, we were all really physically warm, so Eva led us in a warm up for our breath and our voices. We played the "Blowfish/Puckerfish" game from last week to get our facial muscles warmed up. We also practiced DYNAMICS by howling like Werewolves in loud, medium, and quiet voices.
Check In
We circled up and reviewed the schedule for the night's class. We've done a lot of work in the past several weeks, and set our characters, relationships, settings, and objectives, so for this week's class, we worked on starting to stage the full story. After reviewing our ensemble rules (Listen, Focus, Keep Hands to Yourself, Do Your Best, and Have Fun!), we split into Lemons and Limes to start working.
Yes, Let's
This is a game that is all about using our imaginations, listening to each other, and, as the name might suggest, SAYING YES! You might remember this from our Summer Improv Workshop. We go around the room and anyone can shout out "I have an idea! Let's..." and suggests some activity. The rest of the group agrees, "Yes, Let's!" and starts miming the suggested activity together until the next suggestion gets shared. Tonight, ideas ranged from standard activities like ride bikes, play basketball, and ride horses to crazier ones like "Let's pretend we're Katie!"
Writing Groups
We spent a lot of time in our writing groups this week to review our stories. Teaching artists Kendra, Peter, Lawrence, and Katie wrote out a full synopsis of the stories we've created and we read through them and started to act pieces of them out - creating tableaus and improvising lines. We also picked some final elements - most notably our THEME SONGS! get ready for music from Sara Bareilles, Taylor Swift, Adam Lambert, and of course...Frozen!
Storytelling
After we had some time to meet, we served as audiences for each other's stories. The Banapples and Oranges performed for each other and the Blackberries and Strawberries performed for each other. It was fun to see what the other groups have been working on and we laughed a lot and cheered each other on.
Singing Practice
We still have lots of work to do on our mash up. This week, Kendra taught us some new choreography for the Bridge of "Firework". The Lemons started off with singing practice and then switched so the Limes could get some rehearsal time. When they weren't singing, the groups worked with Lawrence and Katie on Monologues...
"I Am" Monologues
Like last week, we continued working on thoughts for our personal monologues. We went around the circle and filled in the blank "I LOVE..." We got a big range of answers - lots of us love animals, many actors mentioned specific family members, and Lucas said "I love Everyone in my theater group."

Lemon & Lime Sing-Off
We came back together and Kendra and Peter led us in practicing our mash up all together including the new choreography we learned in our small groups. Next time, we'll learn choreography for the verses, and we'll be able to pull the song all together!
Check Out
We circled up and reviewed what we covered in class that week and by show of hands voted for our favorite moments. Miller loved Yes, Lets. Colleen loved singing. Quincy had so many favorites, she voted for everything!
"I Take from the Heavens..."
Katie led us through our traditional call-and-response blessing and then we were done for the night.
Next week, we'll have full scripts for our scenes and well as some costume pieces so we can start putting these scenes "on their feet." Stay tuned for next week's blog to follow our process (and also for updates on ticket sales for our big show!)