We had an incredible first week of classes! This semester, we've split our big group of 20 actors into two smaller groups of 10, with one group meeting on Monday night and the other meeting on Fridays. Katie and Lawrence are heading up the Monday class and Kendra and Peter lead the Friday night session. This is a new format for our actors, but everyone adapted quickly as we hopped right in to work and we are now officially on the road to Shakespeare 400!
Monday Class Recap (by Sean Okerberg)
Tonight's focus was to hit the ground running with a new class structure, a new rehearsal space, and two new volunteers, Ariel and Alanna. After making our way through the fencing class to the new studio at the Menomonee Club our agenda called for a dance party and warm up. Andrew raised the creative energy for Monday's 10 person class with his nuanced interpretation of the tongue twister "Big Black Bug". We moved to From Here to There, with an infectious turn from Kaylie and Hannah laughing their way across the room. We quickly learned that each trip across the space represented a moment from the play to which we were then introduced. Katie walked us through the characters, Lucy got us started when she donned Olivia's hat and instantly became a mourning matriarch. Emily Lavin's Feste was priceless with her jingling hat. From there we went on to do the Play Plot of Act One, and Rachel showed what an old pro can do as she took to the character of Viola in the blink of an eye. Our last two lessons for the day was an introduction to our group song, "Sweet Viola" and to the fact that Katie can totally wail on the guitar. Claire was captivated. We ended the evening with I Take From The Heavens as lead by Beth, Kaylie and Colleen. With that Colleen checked off the last agenda item and coats were reacquired.
Friday Class Recap (by Lawrence Kern)
Friday's class started off with a bang with a new spin on dance party. Lindsay was manning the iPod and every so often she'd pause the music, causing everyone who was dancing their heart out to freeze. Every time, we got a little better until soon everyone was freezing like a champ (except Samuel who liked to move around and tickle all the frozen people!). After that we circled up and Kendra led us through some warm ups where we focused on being as big as possible, quickly followed by being as little as possible, and warmed up our voices making different animal sounds. After our normal check in reviewing the schedule and ensemble rules, we went around the circle introducing ourselves and answering the question "if you could disguise yourself as anyone or anything, who would you be and why?" Alena, surprisingly enough, chose Beyonce. If Alena has a choice, it's always Beyonce. We then played a quick game of Pass the Face where we went through some key Twelfth Night emotions (Happy, Sad, Madly in Love), including one of our new words for the day: SCHEMING. Everyone enjoyed acting out their evil plotting, and since there are a few big schemers in Twelfth Night, I'm sure this new vocabulary will come in handy! We then moved on to learning the chorus for one of the songs we'll perform for Twelfth Night, "Sweet Viola". Everyone really enjoyed the song; Quincy even used her improvisational talents to make up some entirely new lyrics. We'll see if they make it into the finished version. Everyone then made a good audience and Kendra introduced the characters of our play and gave a quick rundown of their character traits. Sam Floersheimer really took to Sir Andrew and his partying ways. We then all worked together to create some tableaux of different characters interacting. After learning about all the character we moved on the play plot of Act 1. Everyone took turns playing one of the characters in this shortened version of Act 1. Natalia really stepped up to the challenge of playing Viola and remembering when to wear her Cesario hat and when not to. Marissa loved being Olivia, and Sam P had a ball as Malvolio. After some quick journaling we ended the night with "I Take From the Heavens". It was great spend more one on one time with the kids in these smaller classes and to see some of the newer students really coming into their own and having more fun with new texts – I'm sure it will only get better as the semester goes on!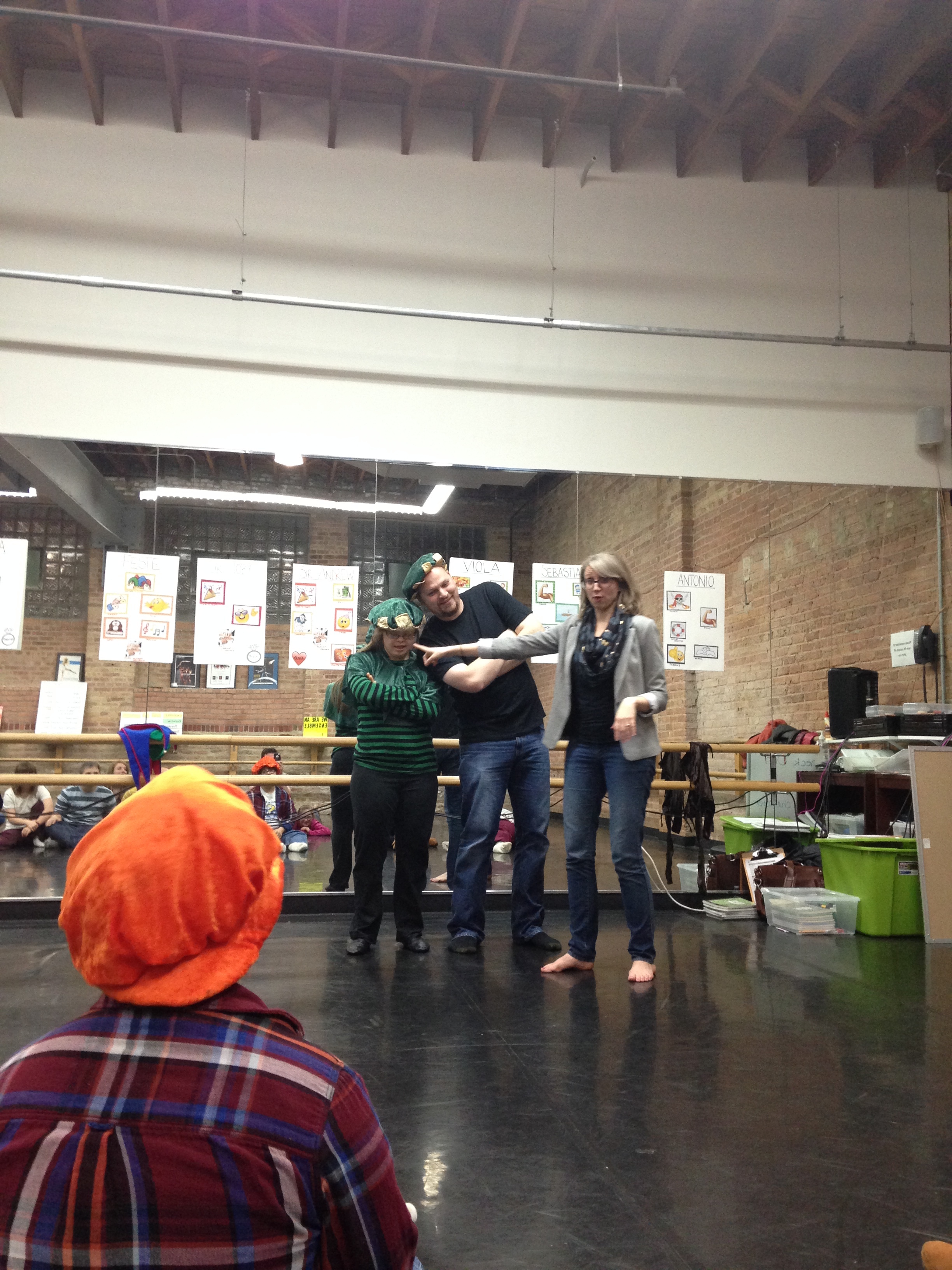 Week 2 will bring more explorations of characters, more music, and more plot development as we learn this incredible story. Don't miss out on your chance to see our special performance at Chicago Shakespeare Theater! Tickets are on sale NOW - click here to get yours!