Our ensembles let their imaginations loose and started creating characters for our big show during week 2 of rehearsals!
After getting to know each other and establishing our ensemble contracts in week 1, we were ready to start building our play. After dance party and warm ups, this week we played two improvisation-based games designed to get our imaginations working and to help us listen to each other's ideas.
In "What's in the Bag?" one of our teaching artists comes around with a big black bag. It's kind of like Mary Poppins' carpet bag - absolutely everything can fit inside! Everyone got a turn to reach in and mime pulling something out of the bag. The rest of us had to guess what it was. We found dumbells, a wedding dress, a kitten, slime, waffles, and Colleen even found Wonder Woman's gauntlets!
In "Yes, Let's" we get to move around the room. Someone shouts out "Hey, I have an idea! Let's..." and then suggests an activity for everyone to do. We all shout "Yes, Let's!" and start miming that activity. Sometimes it's simple like singing a favorite song, sometimes it's really active like playing basketball or skiing, and sometimes it's fun like decorating for Christmas or getting married! But this game helps us to come up with ideas, physicalize, and reminds us to accept each other's suggestions.
From there, we were ready to focus on building characters.
Our original stories will be as different as the actors creating them, but we are shaping them off of the same set of questions with Cyrano de Bergerac in mind. Each ensemble created 3 different characters. We split into groups and each group started with a big sheet of white paper. They drew an outline of a person and then we got started answering a series of prompts about this person:
Something this person gets made fun of for (for Cyrano, it's his nose)

Three reasons you would want to be this person's friend (Cyrano is loyal. brave, and witty)

This person's biggest talent (Cyrano is a great swordfighter!)

What does this person want more than anything? (Cyrano wants love)

Who does this person trust? (For Cyrano, it's all about Roxanne)
Between each question, the papers got passed from one group to the next, so each group had a part in creating each character. Together we made some really interesting folks. We have a math genius, a basketball player, an actor, a swordfighter, a weightlifter and a singer. Their talents are sometimes overshadowed by things like big ears, funny teeth, the way they dress, and two of our characters get made fun of for having Down syndrome. But as the weeks go one and our stories develop we'll find out how they can get what they want! We are having a blast and can't wait to see how these characters develop.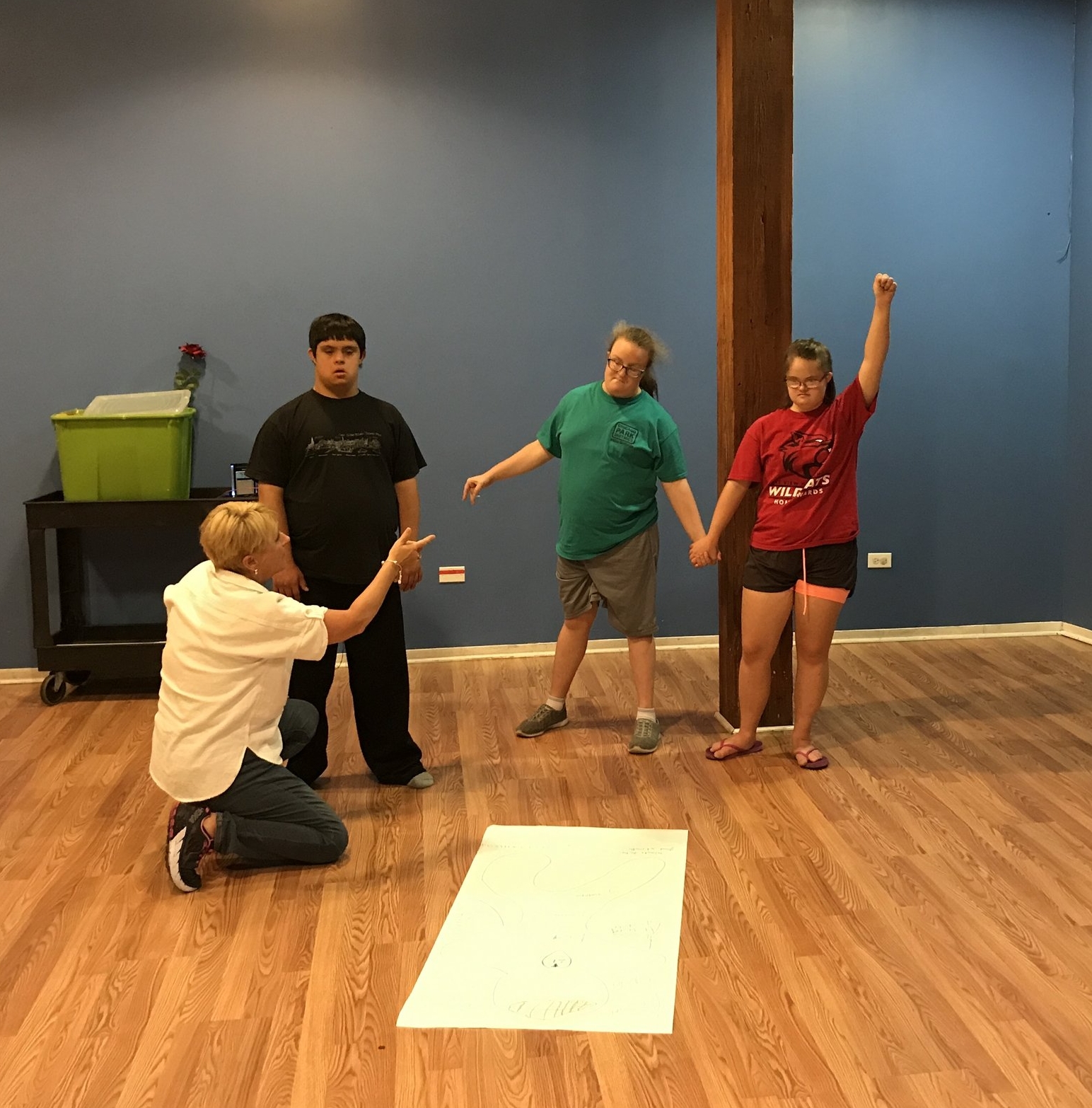 Follow our social media channels to get more behind the scenes photos and videos and live updates from rehearsals!