Our ensembles kicked off rehearsals last week!
This fall, the A.B.L.E. team will be devising our own show. We've done this before in 2013's Such Stuff as Dreams Are Made On and 2015's What You Will. The process is always a little scary, but a lot of fun for our actors to pool their imaginations and share more about themselves in the process. This show will look at the idea of inner and outer beauty, in preparation for our spring production which will be Cyrano de Bergerac.
This semester we have TWENTY ONE actors - 11 in our Friday group, and 10 in our Monday group. We've welcomed two new actors this term - Maria on Friday, and Peter on Monday - and a whole bunch of new volunteers! Watch for more blog posts throughout the semester to introduce you to these newcomers.
Before we can start devising, we have to establish ourselves as an ensemble, so that's what the first week of classes focused on. Classes started as always with dance parties and warm ups, and a good round of elephant/alligator.
Making a play is like making a big puzzle - a bunch of different pieces have to fit together in different ways to create one big picture. We don't have a script or pre-imagined characters to work with. We only have our own imaginations to work with. So each of our actors took time to decorate puzzle pieces - writing, coloring, and drawing about things that matter to them as individuals. We put all the pieces together to show how we have to come together to make this play!
Scroll through the photos below to see our Monday ensemble decorating their puzzle pieces.
After that, each ensemble also had a conversation about what it means to be a good team and came up with contracts for how to work together. Alena related a good ensemble to the detectives on Law & Order: SVU - we have to work together, talk to each other, and listen. Marissa and Claire were great scribes - writing down suggestions as they came and helping to draft the agreements. Both ensembles had certain things in common on their contracts - listen, be honest, work hard, and have fun - but there were some other elements that were personal to specific actors. The Friday group made a particular point about not touching props or costume pieces that didn't belong to them, or, as Alena said "DON'T TOUCH OLIVIA BENSON'S STUFF!" (we want to have t-shirts made that say this).
Take a look at our Friday ensemble's discussion and contract: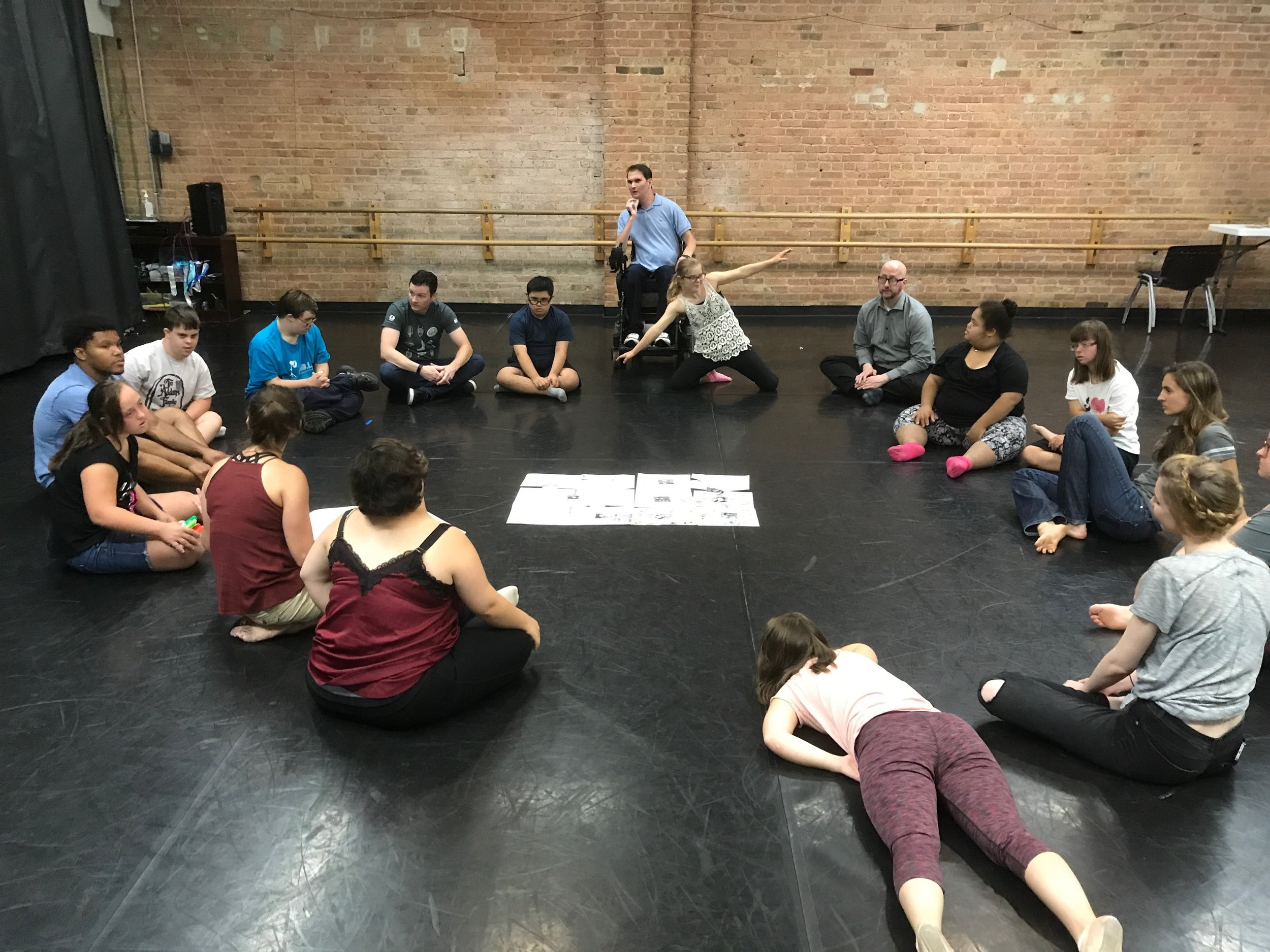 There was time for a few ensemble games before check out, where each actor shared his/her favorite and least favorite parts of class. Pretty much everyone was happy to be back together supporting each other! Stay tuned for more updates throughout the rehearsal process here on the blog, and be sure to follow our Facebook and Instagram for more looks behind the scenes.
The Monday class finished with a serenade to our b-day girl!