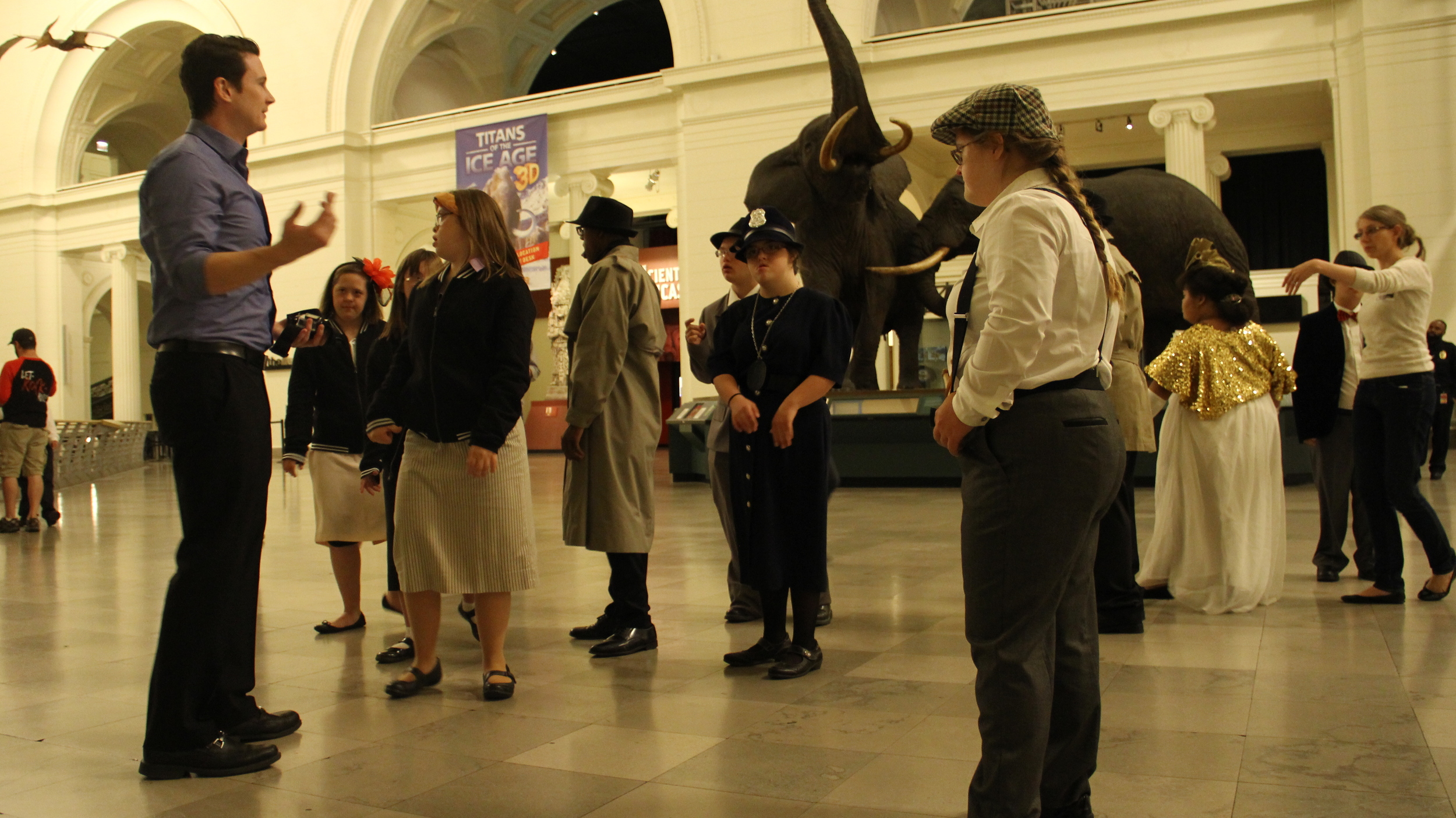 On Monday, we revealed our plans for ABLE's second feature film The Spy Who Knew Me. These ambitious film projects are the brainchild of ABLE's co-founder and teaching artist, Lawrence. A staple of our program since the very beginning, Lawrence brings a great sense of humor and passion to every class. As filmABLE director, he conceives, writes, and produces our film projects. As a teaching artist, he works hard to foster personal relationships (and take lots of selfies) with each and every member of our ensemble. In this week's spotlight, we're happy to introduce you to...
LAWRENCE KERN
Birthday: 09/25/78. Yes. Really. 1978.
Tell us a bit about your performing and/or teaching background: I hold a BFA in acting with an emphasis in Shakespeare from Southwestern University in Georgetown, Texas. About 11 years ago I moved to the cold north lands to get an MFA from The Chicago College of Performing Arts.
I've acted on a lot of different projects. Probably my favorite theatre role has been Hal in Henry V at Shakespeare's Globe in London through the Shakespeare at Winedale program. I've been focusing more on acting for film and TV, and get cast a lot as a cop. I've been a cop on Betrayal and Chicago PD, and also had a role as SWAT leader in The Dark Knight that wound up on the cutting room floor (I did meet Christian Bale fully decked out in the batsuit).
In addition, I've also spent the past 7 years as a motion capture artist, and have worked on several video games including the Mortal Kombat Franchise (Subzero and Liu Kang), Injustice: Gods Among Us (Green Lantern), Vin Diesel's Wheelman, and the newly released Heroes Reborn: Gemini.
You can check out my website or my IMDb page for a full bio/resume if you're really curious. Katie designed my website - it's pretty sweet.
Between Acting, Singing, and Dancing, what's your favorite way to perform?: Acting. No question.
Do you have a hidden talent? I can mimic the sound The Predator makes to a Tee and I can make a weird "Turkey" sound from the middle of my throat. Doctors from around the world, and Katie, still have no idea how I do this.
Who is your favorite actor/performer? What do you like about them? Morgan Freeman. The man can do no wrong.
How Long Have You Been With ABLE? Since Romeo & Juliet in 2011
Why did you start working with ABLE? Have you done this type of work before? Well, let's clear this up first, Katie (ABLE founder and director) and I have been together since 2009. I watched her get this thing started at GiGi's Playhouse, and was so proud of her. She asked me to come to one rehearsal for Romeo & Juliet to teach some basic fencing skills for the Montague/Capulet swordfight, and I was hooked from that first class. I just never left. I had never done any sort of teaching and had no experience with individuals with special needs before this program, and now I can't imagine my life without it (cue the cheesy music).
Favorite ABLE memory from class or performance? Anytime Ben gets so excited he almost leaps into the audience during a performance. He moves like a spring.
Also, making The Curse of the Tempest Jewel was, start to finish, an incredible experience. The day we got to film at The Field Museum was really a once-in-a-lifetime moment. I still get really excited that we managed to get The Ghost and The Darkeness lions in the film.
What's your go-to dance party song? "I Got a Feeling" by the Black Eyed Peas. It gets the kids AMPED.
Thank you, Lawrence for all you do to bring out the best in each one of our actors and for helping them to shine!
Do YOU want to work with our great team and get to know these actors too? We're currently recruiting Volunteer Facilitators for our spring semester. Click here to find out more about what it takes to become a volunteer, and e-mail us for more questions or to become a part of the fun. (You can take selfies too if you want.)